WELCOME TO
GETFRESHASPARAGUS.COM
"WHERE FRESH INDIANA ASPARAGUS IS DELIVERED STRAIGHT TO YOUR KITCHEN"
TASTE of INDIANA
Available April-May
NOTE: Availability is also subject to inclement weather.
In 2001, Melon Acres started harvesting 80 acres of asparagus. In 2003, we traveled to New Zealand to purchase a state of the art machine that utilizes a camera and computer to sort the fresh asparagus crop. Uniform bundles and the highest quality standards will ensure that however you prepare your asparagus, your satisfaction will be guaranteed. In 2004, we planted an additional 40 acres, including a variety of Purple Passion, which will be  harvested for the first time in 2007. The start of 2006 asparagus season will be another milestone: Melon Acres has committed to bring Farm Fresh Asparagus directly to your kitchen. Your asparagus will be picked, sorted, and bundled to the highest quality standards, cooled to 36 degrees, and finally packed with ice (to maintain temperature and moisture) into Styrofoam coolers and shipped directly to you.  Your asparagus will be delivered to you by 5:00 pm the next business day, so you can be assured that you are serving the freshest asparagus available.
GUARANTEE: Your satisfaction is guaranteed...our reputation depends on it.  If you are not completely satisfied with your order, Melon Acres Inc. will provide a full refund and will arrange pick up and return shipping. NO QUESTIONS ASKED!
Ordering is also available by phone. 1-877-684-4780
"In by Two and we'll get it to YOU!"
Normal orders are shipped Monday-Thursday. Friday orders require FedEx Saturday delivery. This will be an additional charge. Saturday and Sunday orders will be processed and shipped on Monday. ALL ORDERS ARE SHIPPED FOR NEXT DAY DELIVERY in Zone 1 and 2nd day for Zone 2!! Zone 1 is covered by FedEx ground and FedEx Express for Saturday. If delivery is in the shaded area of Zone 2, FedEx 2nd day or Express charges will be applied to the order.

| | |
| --- | --- |
| Shipping Zone 1 | Shipping Zone 2 |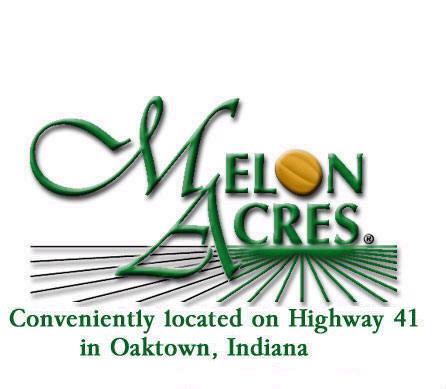 Proudly Offered by: Melon Acres Inc P.O. Box 198 Oaktown, IN 47561
Contact Us